GeochainSlim™ Well Seismic Instrumentation
The GeochainSlimTM is the next development of the field proven VSP and hydraulic fracture monitoring. This system has been designed for use in open or cased holes with all locking arms opening simultaneously to reduce survey time. A maximum bandwidth of 1600Hz, very low electronic noise levels and slim size make the system ideal for hydraulic fracture surveys.
The established extra high sensitivity GeochainTM Quad geophone sensor pack has now been integrated into the GSR design and is now available as a standard configuration. The GeochainSlimTM system also benefits from the new gapless recording functionality* which is ideal for the continuous requirements of passive monitoring.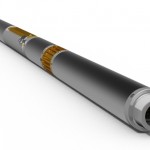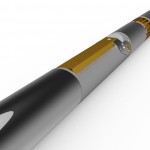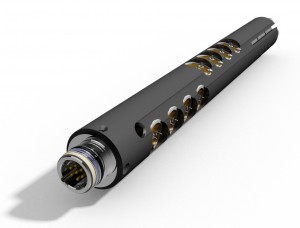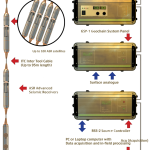 Ideal for VSP & Microseismic surveys
Up to 62 satellites
Slim 1 11/16" (43mm) Outside Diameter Tool
UPGRADED: Unique Active Cooling System for continuous operation at 385°F/195°C.
20,000psi (1400 bar) pressure rating
Standard 7 conductor wireline with GO7 connection
Real time data transmission
Extra sensitive QUAD 3 component sensor
24-bit delta sigma convertors
Up to 200m (>600') between satellites
Operates with all standard ASL surface panels
Gapless recording for passive monitoring surveys
Tractor deployment capability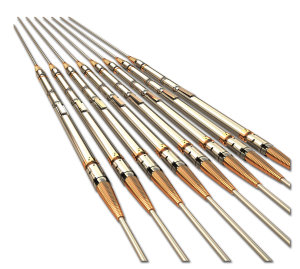 The GeochainSlim Receiver (GSR) innovative design packages all the functionality of the acclaimed ASR-1 receiver into a much slimmer housing.  The GSR tool is a compact three component electromechanical downhole geophone. It is designed for use in wells up to 20,000psi and 195oC (digital) 200oC (analogue) and provides a fast arm cycle time with an arm force to weight ratio of 5:1. It can be easily and quickly converted from an analogue system (up to two tools) to part of a multilevel digital GeochainSlimTM system.
The downhole distributed electronics features 24 bit Delta-Sigma converters along with switchable downhole gain for maximum dynamic range. Continuous PLL synchronisation to the surface clock allows for very long record lengths* with no timing skew.
Full in field processing is provided by our highly praised ACQ software suite and VSProwess (supplied with each system purchase) enables complex data processing to be performed at the rig site.
The GSR is a development of the well tried and tested ESR tool and has been designed so as to require very little servicing.  Routine maintenance can be performed in a few minutes and even a complete overhaul can be accomplished in less than an hour.
The GSR comes with a three component sensor pack as standard. The sensors are fixed Quad high sensitivity OMNI-2400 15Hz geophones which are suited to both VSP and fracture monitoring surveys. The sensor pack will work in any orientation from vertical through to horizontal.
An optional gamma ray tool or CCL can be used for depth correlation and line 7 (on hepta cable) is free for use with any third party tools that meet the single conductor power requirements.
A BRAND NEW  Slim TCU tension head and motion detector provide real time surface read out to prevent tool hang up is now available . A threshold alarm can be set to warn the wireline operator if tension or motion levels change. Full in-field processing is provided by our highly praised ACQ Software Suite featuring the latest VSProwess processing package.
The standard arm will accommodate boreholes from 1-7/8" to 7" and an extended arm can be used to increase this range to 13". The locking force is constant to within 20% throughout its operating range and will lock into 3-1/2" drill pipe in fifteen seconds.  The arm mechanism has a failsafe feature to facilitate recovery of the tool in the event of downhole failure.
The tool can be used in single or dual tool analogue mode and can be combined with our Gamma Ray tool for depth correlation. The GSR receivers accommodate a modular construction 25' rigid inter tool connector rated to 20,000 psi, 200oC. This low maintenance item provides precise tool alignment and can be coupled together to give a 50' spacing.
In digital mode the tool can be combined to a maximum of 62 levels with 200m spacing between levels (all using standard seven conductor wireline throughout).
When used in digital mode, the GeochainSlimTM employs the STAS-1 Slim Telemetry Adapter Section and SVRS-1 Slim Voltage Regulator Section at the top and bottom of the tool string respectively.  The GSR-1 downhole satellites are populated with the distributed electronic modules featuring 24 bit Delta-Sigma converters for maximum dynamic range along with real time data transmission and display. Constant synchronisation of the string allows for very long record lengths.
Our latest unique active cooling system (ACS) allows continuous operation up to 385°F/195°C within a hermetically sealed environment, and the robust telemetry system will ensure operation in the harshest conditions.
Up to 62 satellites can be used in the array with a maximum tool spacing of >600 feet (200m).
Surface Control
The digital GeochainSlim
TM
 system is supplied operating current at surface via a
Geochain Power Panel (GPP)
which features a Wireline Interface Box (WIB) enabling both DC power and AC data to be transmitted over same wireline cable. From 2016 this panel will be replaced by the upgraded Geochain Monitor Panel (GMP).  The entire system is controlled by a
Geochain System Panel (GSP-1)
which currently operates with a standard digital seismic interface and up to 16 analogue channels.  The panel has a 1.536Mb digital interface with 24 bit delta sigma converters along with a built in firing circuit. The GSP uses standard running
ASL Acquisition suite
.
Microseismic Mode
Digital GeochainSlimTM systems can now be combined with a Downhole Formatting Unit (DFU) for passive monitoring operation to double the number of satellites in a string for a given sample rate.  These can record continuously/gapless at the highest sample rate for maximum picking accuracy and recording bandwidth.
Bypass Mode
The latest user friendly interface for the seismic engineer. The new 'Bypass' mode in the software enables data recovery from all active receivers, preventing any individual satellite failures from compromising the survey.  Any down tools can be bypassed, allowing communication and instruction to all tools below.
Mix & Match Operation
To help economize and maximize the output of your downhole itinerary, GeochainSlim Recievers (GSR) tools can now be deployed below Geochain ASR tools within the same string. 
The system can be modified to a low cost yet robust Analogue set up, for high temperature (200oC) surveys.
This mode of GeochainTM Operation is ideal for very hostile well deployment such as deep check shot surveys. The requirement of only the GSR tool and no other telemetry/electronic devices (Gamma tools optional) allows the GeochainSlimTM Analogue to be one of the most economic borehole seismic survey systems on the market.
GSR-1 GeochainSlim

TM

Receiver
| | |
| --- | --- |
| GSR-1 Satellite Specifications |   |
| Length | 44" (1135mm) |
| Diameter | 1 11/16" (43mm) |
| Weight | 19.5lbs (8.85kg) |
| Max locking range | 7" (178mm) Standard or 13" (330mm) with long arm |
| Max locking force | 300 lbs (Standard Arm) |
| Temperature | 400oF (204oC) Analogue, 385oF (195oC) Digital – (180oC pre 2016 electronics modules AS270/271/273). |
| Pressure | 20,000psi (1400 bar) |
| Sensors | 3 Component Fixed – SMC 2400 15Hz Omni Directional Geophone – Quad |
| Well Deviation Control | 0o-95o |
| Panels | GPP/GMP & GSP-1 (Digital) |
|   | DCP-2 & GSP-1 (Analogue) |
|  Coming Soon: | GMP – (Replaces GPP – Provides Power with wireline QC and telemetry features). |
System Specifications
Downhole Specifications
 
Max. No. of Satellites
62
Telemetry
Sample interval
Bandwidth Hz
GSR's (using SDFU)
 
1/4ms
1600
8 (15)
 
1/2ms
800
16 (30)
 
1ms
400
32 (60)
 
1.5ms
266
48 (80)
Dynamic Range
>112dB @ 0dB pre-gain (minimum)
A/D convertor
24 bit Delta-Sigma
Distortion
<0.02%
DC offset
Self-calibrating
Max. data rate

4Mbit/second (using X-Gen Digitizer)
Min. data rate
256kbit/second
| | |
| --- | --- |
| Surface Specifications |   |
| Recording panel | GPP and GSP-1 (Digital) DCP-2 and GSP-1 (Analogue) |
| Software | ASL Acquisition Suite and Copy of VSProwess© Processing Software |
| Cable equalisation | Fully automatic using internal DSP chip |
| Down-going data rate | 2 kbit/second |
| Airgun firing pulse | 60 V, 30ms |
| Test system | Fully automatic with comprehensive report generation |
| PC Interface | USB |
| Power Requirements | 100/230 V AC, 47-63 Hz universal input, 30 watts |
| Operating Temp | 32-104°F ( 0-50°C) |
| Enclosure | Standard 19" rack mounting |

ORDER THIS PRODUCT
CALL OUR SALES TEAM
+44 (0) 1458 270000
BOOK A TRAINING
COURSE

FIND OUT MORE ABOUT
OUR SOFTWARE