Avalon Borehole Test Facility
AVALON CORNWALL
Avalon Sciences has acquired the ABB Offshore System borehole facility at Rosemanowes Quarry, Penryn in Cornwall, UK.  The acquisition of the 871,200 square feet quarry allows testing of borehole equipment within a controlled environment.
This provides ASL with an additional means of proving new products within real onsite conditions, allowing us to provide a better understanding of problems that may develop in other locations.  Facilities and wells on the site are available for hire along with field crew.  The facility can also be used as part of our ATC field engineer training course.

Avalon Borehole Test Facility Brochure
200m cased vertical borehole
(with wireline winch) at our Somerton HQ facility.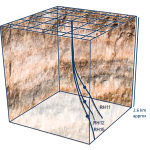 Opportunities for Customers
The quarry was a UK Hot Dry Rock Geothermal Energy Research site, offering access to one of the most comprehensively logged well systems in the world. The boreholes are located within a fresh water filled granite environment, thus providing an excellent location for academia and industry to prove research and hardware.
The site provides an ideal training facility for trainees to learn how to maintain, assemble and deploy ASL tool systems on site. A comprehensive training itinerary has been developed such that a complete field engineer and maintenance course can be carried out over a period of days. There is also an opportunity for trainees to carry out onsite VSP surveys to gain real time experience with ACQ acquisition software, with an option to carry out processing training of the collected data set with VSProwess. Please refer to our ATC training brochure for more details about these courses.

Boreholes and Facilities
Along with all standard surface facilities, the site consists of:
-Three deep boreholes with a 9 5/8″ casing
| | | |
| --- | --- | --- |
| | Casing Depth | Measured Depth |
| RH11 | 1465m | 2356m |
| RH12 | 1798m | 2180m |
| RH15 | 2224m | 2566m |
One with a 300 m open hole section inclined at 30˚
Four 300m deep boreholes with 6″ casing at 20m
One 150m, 8 1/2″ uncased borehole inclined at 30˚
One 15m horizontal borehole with access both ends
Logging winches with a standard 7 conductor wireline
Impulsive/ Vibroseis Sources onsite
Any of the wells can be hired for use (academic discounts available).

Consultancy and Support
Consultancy & Support
ASL can provide onsite consultancy and support services ranging from winch drivers and logging engineers, to maintenance/deployment technicians and geophysical consultants.

ORDER THIS PRODUCT
CALL OUR SALES TEAM
+44 (0) 1458 270000
BOOK A TRAINING
COURSE
AVALON BOREHOLE
TEST FACILITY