TCU Tension Compression Unit
The TCU (Tension Compression Unit) is a device designed to accurately measure the load on the wire line at the top of the GeochainTM or GeochainSlimTM string.
This product records during receiver deployment with real time surface read out, providing the seismic engineer with an invaluable tool to detect and prevent receiver hang up.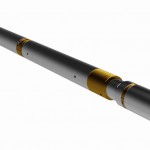 Main Features
TCU 3" Diameter Tool compatible with GeochainTM
STCU 1 11/16″ Diameter Tool compatible with GeochainSlimTM
Tension and Compression measure on wireline
Real time surface read out
Ready out display with ACQ software.
High Accuracy
Operation with hostile well conditions
This new unit has refined pressure compensation capability with the load measurement achieved by means of strain gauges situated within the housing.  Mounted directly above the telemetry adapter section (TAS) of the tool string, the TCU measured output voltage is digitised and transmitted by the TAS and displayed at surface within the ACQ software.
All TCU-2 components in contact with borehole fluid are corrosion resistant, and not sensitive to hydrogen embrittlement. The new design has minimised the number of items which need servicing after each deployment (such as O rings).  Any items requiring attention can be easily serviced with minimal disassembly.
| | | |
| --- | --- | --- |
|  TCU/STCU  Specifications | TCU-2 | STCU |
| Loading: | The unit can measure tension or compression load in the range -11000 lbs (-5000 kg) to +11000 lbs (+5000 kg), with a damage free load limit of +/-20,000 kg. | The unit can measure tension or compression load in the range -3,000lbs (-1,360 kg) to +5000 lbs (+2270 kg), with a damage free load limit of +/-8000 kg. |
| Accuracy: | Better than 2% of full scale across the range of temperature and pressure. | Better than 2% of full scale across the range of temperature and pressure. |
| Length: | 26" (660 mm) | 44.7" (1160 mm) |
| Weight: | 40 lb (18 kg) | 20.5lbs (9.3 kg) |
| Diameter: | 3" (76 mm) | 1 11/16" (43 mm) |
| Max Operational Temperature: | 400oF (205oC) | 400oF (205oC) |
| Max Operational Pressure: | 25,000 psi (1720 bar) | 25,000 psi (1720 bar) |

ORDER THIS PRODUCT
CALL OUR SALES TEAM
+44 (0) 1458 270000
BOOK A TRAINING
COURSE

FIND OUT MORE ABOUT
OUR SOFTWARE